Nextcloud is a free self hosted solution for file hosting and sharing. The base installation provides you access to contacts, calendar, chat etc. Today we will explore productivity apps for Nextcloud for your organization or personal use. This can result to less dependency on big tech companies.
1. OnlyOffice
OnlyOffice is a free online office solution for Nextcloud as well desktop. It integrates well with Nextcloud including adding users to the files for collaboration. You can easily edit documents with other users simultaneously. You can export documents to PDF too.
Nextcloud provides two types of installation and setup. You can install the whole suite as an app and no extra configuration is required.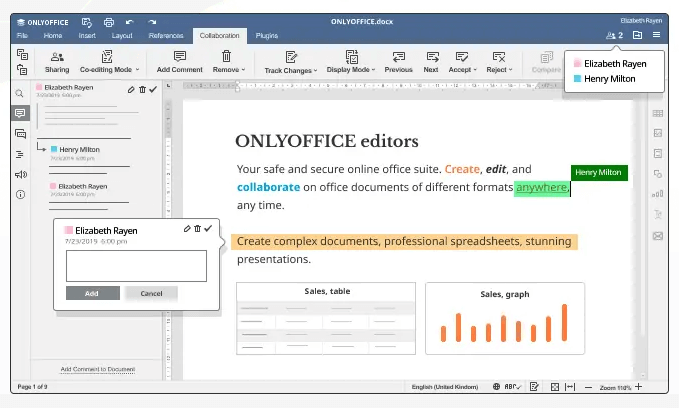 The other solution is to install and set it up by yourself and connect it to your Nextcloud instance via an app called OnlyOffice connector. This solution gives you more control and frequent updates.
OnlyOffice provides an Android app where you can connect to your instance and quickly view/edit files on the go.
2. Collabora (CODE)
Collabora is also an office solution for Nextcloud. There are two ways to install Collabora like OnlyOffice.
1st one comes as built-in server integrated with Nextcloud.
The 2nd one you need to install and configure by yourself and connect it via a connector app.
Nextcloud 23(Hub II) introduced Nextcloud office which is Collabora backed. This has much more tight integration with Nextcloud visually and feature wise.
3. Notes
Notes is a simple note taking app which also supports MD rendering. You can also categorize your notes for better organization.
Android app is available too to view/edit your notes.
You can also try Carnet if you like cards style.
4. Deck
Deck is kanban style app designed for project management. You can create multiple cards from your tasks and add notes in Markdown format. It also supports tags to organize your cards.
You can also download the mobile app to check your projects on the go.
5. Tasks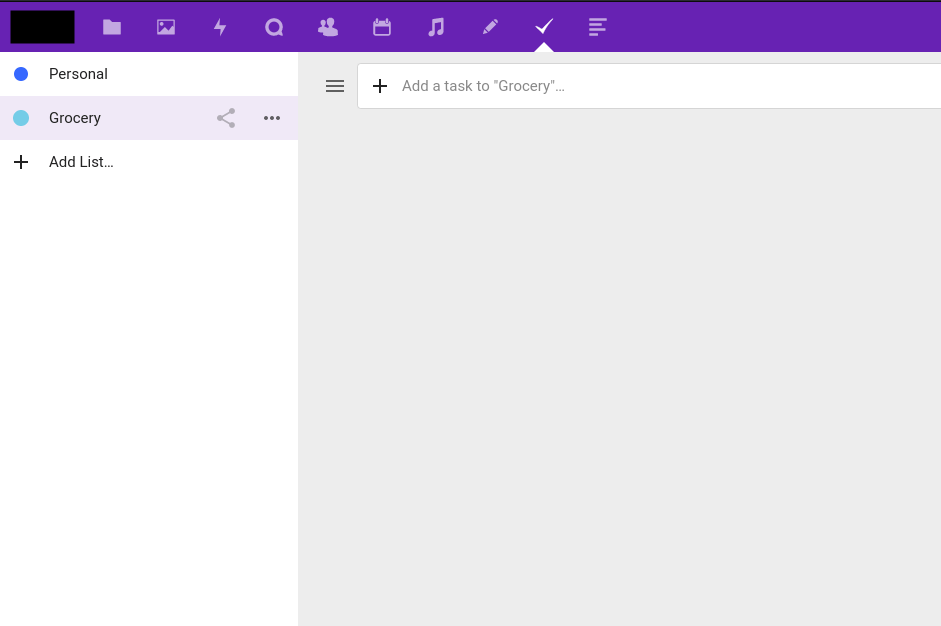 Tasks is a calendar based task tool where you can create/edit/delete tasks. It syncs through CalDav, so you can use any app on your mobile or desktop for syncing.
6. Talk
Talk is a text/audio/video conferencing app using WebRTC. It also supports password protected chats, screen sharing(needs browser extension) and with recent update webinars.
For better audio and video quality you can install your own TURN server.
Mobile apps for Android and iOS are available too.
7. Mail
If you have your own mail server or using third party mail service with IMAP support, Mail is the right app for you. Mail has integration with Nextcloud Files, Contacts and Calendar apps.
Nextcloud 23 has introduced many new features to the default apps, and Mail is one of it. The new UI is more polished and clean. I was not a big fan of this app because it had so many glitches and issues before. But since this update things are right on track.
8. Appointments
Appointments is a useful app if you have a business where you can set schedules for your customers. This app can just do that for you and the user will be notified via email about it with details.
9. Contacts and Calendar
These are the default apps installed with every Nextcloud setup. If they are not, you can easily install them from the apps store via an Admin account.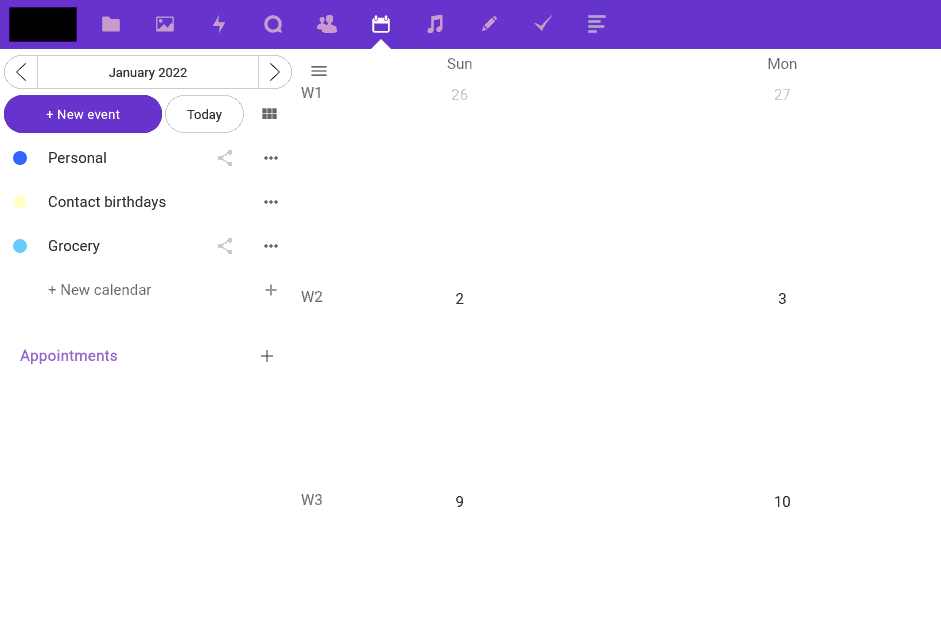 On your Android device you can install Davx5 to sync your contacts to your phone.
10. LibreSign
If you like to share a digitally signed PDF document with others, you can use LibreSign to sign it. But this though require you to install some extra libraries on your server.
11. Cospend
If you personally or for organization need an app to manage your budget, Cospend is a great app for that. The good part of it is you can share projects across users like your account team.
It has Android app available too for managing your projects/bills on the move.
12. Registration
Registration app allows users to register a new account on your instance on your terms. You can approve via email or just enable them from the users listing, so it's safe to let me them register an account.
There are many options available in it's setting page for you to setup the way you want it.
13. BigBlueButton integration
If you have BBB and want to control over it's settings you can easily do it with BBB integration app.
14. Forms
If you have an organization and need feedback from users, Forms can let you create forms with multiple options and choices.
It could be useful to gather data for analysis.
15. Automated PDF conversion
If you have many files and work on documents daily, this app can help you reduce your work load by converting your files to PDF automatically.
You can set your own rules for the conversion.
16. Draw.io
If you draw flowcharts and design databases in draw.io, you can integrate it within your Nextcloud instance without disturbing your workflow.
17. Time tracker
Time tracker is for organizations who like to track time spend on different projects. In organizations it is common practice to track time.
18. Group folders
This is one of the many apps I recommend or install for my clients when they ask for a shared folder for all users or group of users.
19. Dashboard
Dashboard is a default app now in new Nextcloud versions, if for some reasons it is not installed you can install it from App store.
It may not directly help you but it has a cool UI to show different parts from your instance. Which makes it easier to have a quick look.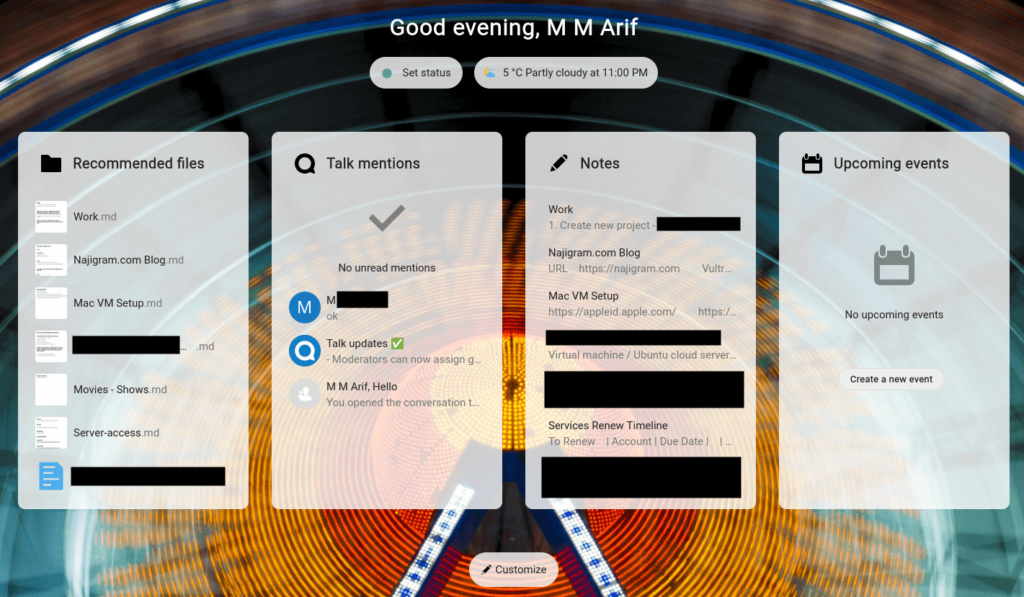 It have integration apps for other services like GitLab, GitHub, Jira, Zammad, Twitter, Mastodon etc.
---
I personally use Nextcloud for almost everything I need in my daily life. Apps like Notes, News are my daily drivers. While are at it, here are some honorable mentions.
News (RSS/Atom feed reader)
Bookmarks
Text (Notes like app for collaboration)
Breeze dark (inspired from KDE theme)
Health
Maps
Music
JavaScript XMPP chat (simple chat app)
Right click
Polls
Passwords (password manager)
Social login (login via social sites to Nextcloud)
Custom menu (customize the default menu)
Impersonate (impersonate other users)
Restrict login to IP addresses
Listman (manage mailing lists)
Element for Nextcloud (matrix server integration)
Weather